All 19 local authorities in the region have pledged their support to this approach and the MoC is now operational.
Councils in the region have recognised that competing with each other to recruit social workers has become counter productive and has contributed to the increased reliance on agency staff and escalating costs.
The Memorandum of Cooperation aims to ensure a more collaborative approach to recruiting social workers and to the employment of agency staff, when necessary, making it harder for agencies to persuade social workers to leave their permanent post with a local authority.
A new approach to recruitment will be taken, with local authorities devising their own recruitment campaigns to attract quality social workers in to their permanent employ, rather than commissioning recruitment agencies to 'head hunt' social workers and managers. The aim of this is to increase stability in the workforce and reduce the incentives for staff to repeatedly move between authorities.
Through the Memorandum, work is also being undertaken to improve the quality of agency staff. There are many reports of poor quality agency workers moving frequently between authorities. The Memorandum agrees a new standardised approach to references that will help to ensure better shared communication between authorities and, in turn, improve the quality and accountability of agency social workers and managers.
The Memorandum of Cooperation was relaunched on 1 April 2022
The Memorandum contains four key measures:
An agency pay cap to stop pay rates from escalate as authorities paying higher and higher hourly rates
Agreement to refrain from aggressive head hunting
A standardised approach to references for agency staff
A six month "cooling off" period for permanent staff moving to agency work
The Memorandum also contains an agreement that signatory authorities will not employ social workers as agency staff, if they were permanent as members of staff elsewhere
The Big Listen Report
On June 30 2023, SESLIP and LIIA published a Report on The Big Listen Survey 2022-23
The Big Listen is an ambitious research project undertaken collaboratively between 52 local authorities in London and the South East. The research sought to listen directly to frontline social workers and managers through a combination of focus groups attended by over 150 people and a survey completed by over a 1,000, representing more than 8% of all social workers/managers in both regions. The research also looked at a range of other sources with the aim of bringing together the best possible evidence to help inform and develop a regional workforce strategy.
The report is detailed and includes an accessible short executive summary. Authorities who contributed to the research by getting more than 25 of their staff to participate will also be provided with an individual authority level report.
Key findings from the research will be presented at the next regional DCS Meeting (21st July) where discussion will focus on how the research can be used to contribute to developing a comprehensive South East regional work force plan.
For more information please contact Mark Evans (contact details below)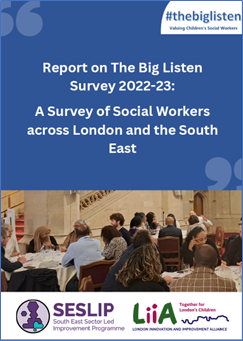 Governance & Reports
The Memorandum of Cooperation has a governance body constituted of representative DCSs, Assistant Directors Safeguarding and HR Partners.
The following Local Authorities have agreed to implement the new MoC for managing the demand and supply of Children's Social Workers from 1st April 2022:
Signed MoC Approvals
Bracknell Forest Council
Brighton and Hove City Council
Buckinghamshire County Council
East Sussex County Council
Hampshire County Council
Isle of Wight Council
Kent County Council
Medway Council
Milton Keynes Council
Oxfordshire County Council
Portsmouth City Council
Reading Borough Council/Brighter Futures for Children
Slough Borough Council (Slough Children First)
Southampton City Council
Surrey County Council
West Berkshire Council
West Sussex County Council
The Royal Borough of Windsor and Maidenhead (Achieving for Children)
Wokingham Borough Council